What about jobs?
A Year-End Reflection by Carla Javits, REDF President



A few years ago, job creation was not a major topic of conversation. But, times have really changed. Or have they?
 
As recently as July,
Catherine Rampell reported on the New York Times blog
:
"In May, the
National Journal
published a report on economic coverage in the five largest newspapers in the country by print circulation…They did this by searching for the words "unemployment" and "deficit"….  it did show that over the last two years, the number of articles on "unemployment" had fallen while those on the 'deficit' had exploded."


Despite the media's blind eye, with more than 13 million Americans officially unemployed, and millions more discouraged from looking for work, everyone from the "Occupiers" to the "Tea Partiers" agree that America must create a lot more jobs now and into the future if we are to remain the land of opportunity.
......................................................................................................
Invest in Employment and Hope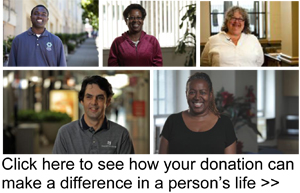 Make a
year-end contribution
to REDF and fuel job creation for people facing the greatest barriers to work! With over 6,000 people employed since 1997 in social enterprises that have earned over $115 million dollars in revenue, your investment will help REDF achieve our ambitious strategy to put thousands more Californians to work while developing a nationally scalable social enterprise model.
Building on our achievements in 2011, in the coming year we will…
Create many more jobs by delivering the funds and support to help our

9 portfolio companies

start and expand their businesses

Squeeze all the learning we can out of all we do and share that with practitioners and partners all over the country so we can become even more effective

Start preparing to take social enterprise to a much larger scale nationally

......................................................................................................
Meet the New Groups in the REDF Portfolio

The Coalition for Responsible Community Development (CRCD) is a neighborhood-based community development corporation serving the Vernon-Central neighborhood of South Los Angeles. 
REDF will assist CRCD Enterprises to refine and grow its business lines.  Additionally, REDF will help CRCD leverage its existing workforce development programs and integrate them more formally across CRCD Enterprises to create more job opportunities and improved pathways to careers.

Community Resource Center (CRC) provides victims of domestic violence and families in need with safety, stability, and a path to self-sufficiency.  Located in North County San Diego, CRC serves more than 2,500 households annually, equating to over 9,000 individuals.

REDF will assist Community Resource Center in starting a new social enterprise: a thrift store to train, employ, and support domestic violence victims and other individuals with barriers to employment as they transition to financial independence. In this new thrift store location, CRC will expand their innovative partnership with Manpower, a for-profit leader in employment services, to provide workforce training, job placement services, and other support to the thrift store employees.

Taller San Jose (TSJ) walks marginalized youth out of poverty through job training and support services that offer the hope of a productive and self-reliant future. TSJ strives to create systemic change for troubled young people in Orange County by providing them with the skills and services that they need to find and keep employment with a living wage and health benefits.

REDF will assist Taller San Jose to significantly grow their enterprise's revenue, capacity, and employment opportunities for at-risk young adults working at the enterprise. REDF will also help them optimize their mix of transitional and permanent employment opportunities and connect young people working at the enterprise to more support services that will foster a pathway out of poverty.
......................................................................................................
Announcements